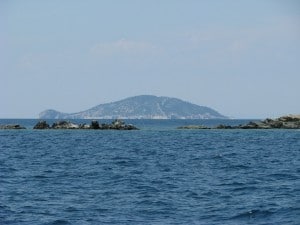 Where it is
The region is the most "magical" way to vacation and sailing in the Aegean Sea, in northern Greece. Halkidiki penetrates deep into the Aegean Sea forming three long peninsulas, best known as "legs of Chalkidiki» Kassandra, Sithonia, Athos. The charm, the beauty and opulence of Kassandra and Sithonia will make you succumb to their charms. Athos is best known for the autonomous monastic community of Mount Athos, which can be visited with special permission only to men.
Halkidiki island
Nop, its not. Kassandra has been separated from main land by man made canal, bridged with highway. Once up on a time Xerxes did the same with Athos, but has since reconnected. But its almost like 3 separate islands and the weather is more like North Sporades than Greek mainland.
Mythology
Each leg has its history in ancient Greek mythology. In Kassandra is buried Enceladus, the giant of earthquake. Sithonia owns its name of the Sithonas, the son of Poseidon and Athos got its name from the rock that flew against the Olympian gods Athos giant.
Kassandra
Kassandra is most cosmopolitan destination in Halkidiki, has golden beaches, long beaches, with many beach bars. It's amazing destination for sailing and diving in blue waters. You can be fascinated by all these small paradises when seen from the sailing boat and you can falling prey to the charm. It is magical to see all this beauty over a sailing boat and only hear the wind out of the sails and the water that is torn from the bow of the boat.
The ideal destinations proposed by Sailbus to enjoy your summer dip is:
Glarokavos : huge beach with fine sand and small pebbles , situated at the end of a lagoon .
Potidea : huge sandy beach , fully organised
Nea Fokaia : sandy beach and idyllic , has taverns , restaurants and a small port .
Paliouri (known as Kanavitsa or Chrousa ) : dreamy beach with pine trees all around , fully organized. Someone can  berth  a sailboat because has a small port .
Athytos : two small beaches , one on each side of the village
Kallithea : sandy beach , very cosmopolitan , well organized
Kriopigi or Pigadakia : beach with fine sand and crystal clear waters
Pefkohori : wide sandy and well organized beach , with view of beautiful pine forest of Kassandra
Chaniotis : crystal clear water, well attended and organized beach , popular to families and young people.
Sithonia
Sithonia has indented coastline, white sandy beaches, pines that dive to the sea, dreamy bays and hidden coves with turquoise waters. By what other way, apart from a sailing with Sailbus , you could enjoy all these beauties with safety , comfort and with experienced captains who are well aware of the area?
In Sithonia you will find exotic beaches, Karidi and Kavourotripes with white sands and turquoise waters that will take your breath away. The pine-clad bay of Koviou with crystal waters, the famous Kalogria with spectacular beach and green waters. Paradeso will steal your heart. Nikiti is organized and has sandy beach that stretches in kilometers.  Sarti is a special attraction for surfers and sailors. Porto Carras has private beaches and are accessible only by yacht. Spathies,  Elia, Kalamitsi, and Agios Ionnis. In Toroni you can swim beneath the archalogical site. Porto Koufos, which is the ancient Torone Port will thrill you with the landscape and two protective arms with craggy rocks close through the port, leaving an opening of about 300 meters. Needless to say that it is the perfect destination for sailing, as it is a very safe haven for sailors that have the  chance to regroup, eat at nice restaurants and even swim in clear water.  The beautiful beaches of  Armenisti, Koutloupousi coast,  Azapiko, Ampelos, Diaporos with Punta Island, Aretes and  Mikri Elia.
Return back to Uncategorized
Return back to Home